COVID19 has put a stress test on Duty of Care at scale. Going forward, it is only going to intensify the responsibility for companies to ensure of the safety of their travelers during major emergencies. Where are my travelers now? Where were they traveling during the last two weeks? Are they safe? How do I connect with them in case of an emergency? How do I assess the travel risks prior to booking a trip?
Our teams have worked tirelessly to bring Duty of Care and risk management solutions to allow your company meet your duty of care requirements.  
Second, we are offering these solutions Free of Charge to all of our clients.
1/ 🚨 Dashboard for global major emergencies
​Stay up-to-date in case of major emergencies worldwide and keep your travelers safe & informed.
2/ 🌍 Live traveler tracker
Always be aware of your travelers whereabouts in real-time or where they traveled during a specific period of time. Connect with them when needed by phone, sms or push notifications in one click directly on the platform.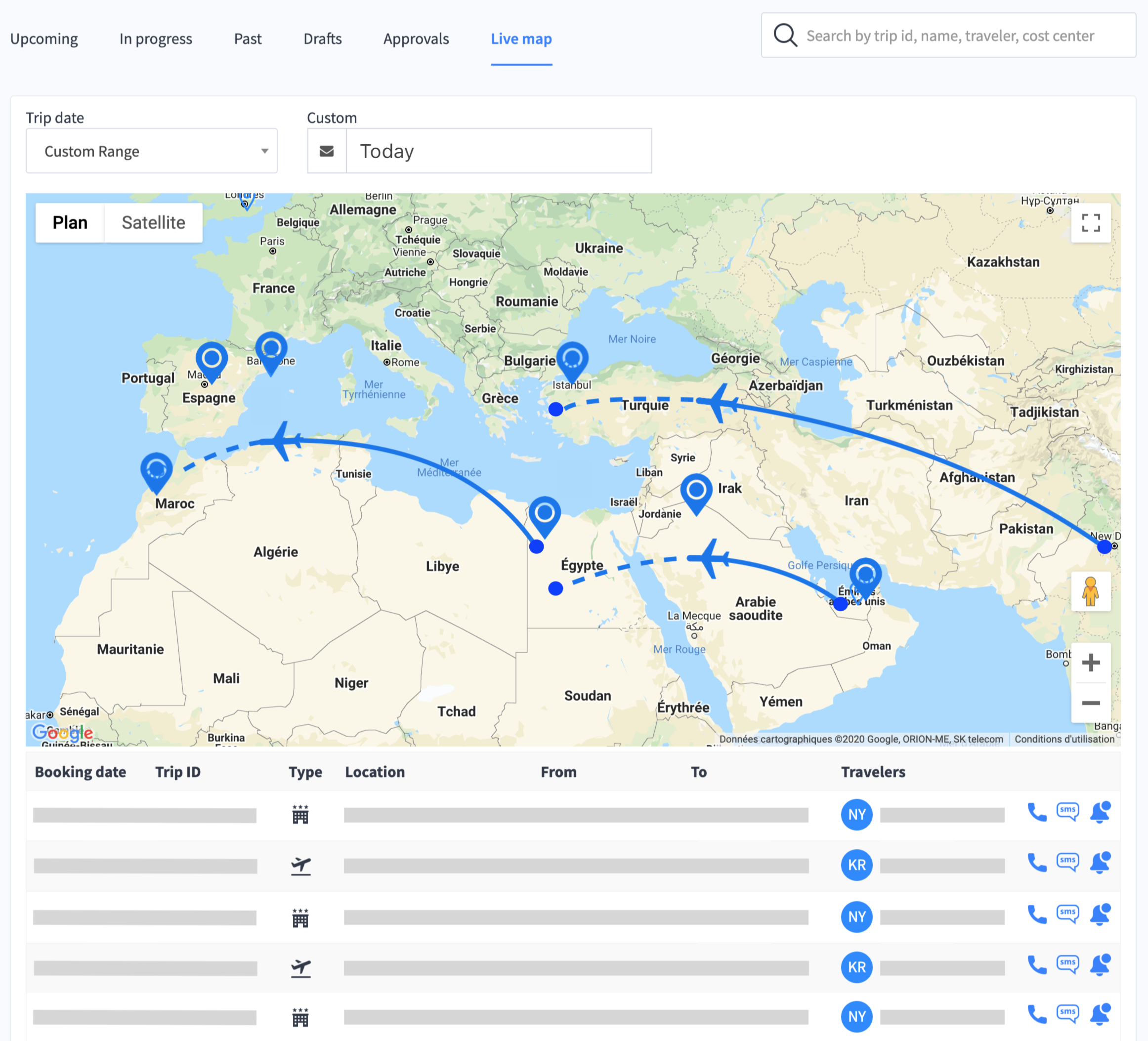 ​​​
3/ 🆘 Emergency safety check
Major emergency? In one click, reach out to your traveling team members and ensure of their safety.
​
​
4/ ⚠️ Risk Assessment
Help travelers make good decisions before booking a trip or restrict travel for specific countries or cities via Travel Policies.
​
​
5/ 📲 Traveler alerts
Receive alerts in real-time about emergencies, flight updates, terminal and gate info with notifications on the app. 
​
 ​
5/ 🙋‍♀️​24/7/365 proactive support
A proactive support team available 24/7/365 to update you on changes to your itinerary (flight changes, airport lockdowns…) and suggest alternative solutions.
​
​
Want to learn more? Download our "Duty of Care & Risk Management Guide" Ebook which covers everything you need to know to implement a Duty of Care plan that works when needed.
A guide to learn more about Duty of Care.
– What is duty of care
– The importance of duty of care
– What is travel risk management
– How to manage travel risk
– ​Learn how to implement the duty of care requirements.